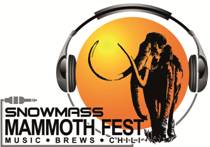 FOR IMMEDIATE RELEASE:
 Snowmass Mammoth Fest
Announces 2014 Festival Lineup Featuring Chris Robinson Brotherhood, Leftover Salmon, Les Claypool's Duo De Twang, Xavier Rudd, plus many more
Tickets On-Sale February 1st at 10:00 a.m. (MST)
January 29, 2014 (Snowmass Village, CO) – The Colorado summer festival season kicks off in Snowmass Village at this year's Snowmass Mammoth Fest.  Snowmass Mammoth Fest is proud to announce that Chris Robinson Brotherhood, and Leftover Salmon, will headline the event this summer. Additional musical artists include Xavier Rudd, Les Claypool's Duo De Twang, Denver, Colorado's The Motet and Nathaniel Rateliff, Bonerama, Houndmouth, Royal Southern Brotherhood, Wheeler Brothers, The London Souls, Miner, and local DJs Berkel Beats, and Echo Da Funk.
The Snowmass Mammoth Fest, formerly Snowmass Chili Pepper & Brew Fest, returns for its 11th year on June 13-15, 2014 in collaboration with Snowmass Tourism. Tickets for Snowmass Mammoth Fest will go on sale, Saturday, February 1st at 10:00 a.m.
Snowmass Mammoth Fest is proud to announce new events, ticket products, and amenities to this year's festival: a VIP ticket experience for the festival guest, a children's area, and a free event to kick off the festival weekend on the mall in Snowmass Village. The 2014 festival is also expanding to three days, while continuing the traditional weekend of specialty chili and microbrew competitions with tastings.
Mammoth Fest's newly added VIP area is the ultimate way to experience the festival. The VIP pass will include daily admission to the festival, VIP parking, shade and relaxed seating with stage viewing, a fully hosted open bar, access to the Grand Tasting, complimentary catered food receptions, private bathrooms, and much more.
"We are extremely excited to continue building upon and expanding the event going into our second year as the festival promoter," said Steve Gumble, President of SBG Productions and Festival Director. "With the support and collaboration from Snowmass Tourism, we are pleased to return a portion of the event to the Snowmass Village Mall on Friday evening as a free event to kick off the festival weekend."
Along with a full weekend of music and entertainment, the Snowmass Mammoth Fest will host the renowned chili competitions and tastings on both Friday and Saturday on the Snowmass Village Mall. Friday night kicks off the festival weekend, with our newly added Free Friday event featuring music and entertainment in a family friendly atmosphere, specialty chili and salsa tastings, and a cash bar, open to the public from 5:00 p.m. to 9:00 p.m.  Festival goers can prepare for a full day of music on Saturday with another chili tasting on the Snowmass Village Mall starting at 12:00 p.m.  Patrons can grab a quick taste and then head down to Snowmass Town Park for our Grand Beer Tasting kicking off at 2:00 p.m. and main stage music until 10:00 p.m.  Sunday completes the festival weekend with music in Town Park from 12:00 p.m. to 8:00 p.m.  The festival offers on site camping, late night shows, crafts from local and regional artisans and food from top area vendors and restaurants.
Tickets for Early Bird Two-Day, VIP Two-Day, Single Day, and Camping passes will all go on sale February 1st at 10:00 a.m. (MST). Early Bird Two-Day passes are $70 each (a savings of $15), VIP passes are $225 each, Saturday Single Day tickets are $55 each, Sunday tickets are $45 each and Friday's event is Free. Three-Day camping passes are $30. Snowmass lodging partners will be offering Snowmass Mammoth Fest lodging specials. For festival information, or to purchase tickets, please visit www.snowmassmammothfest.com or call (877) 987.6487.
SBG Media Contact: Bill Kight, Director of Marketing and Public Relations, SBG Productions, 970-728-8037×107 or bill@sbgproductions.com
Snowmass Tourism Media Contact: Patsy Popejoy, Public Relations Manager, Snowmass Tourism, 970-922-2285 or ppopejoy@snowmasstourism.com